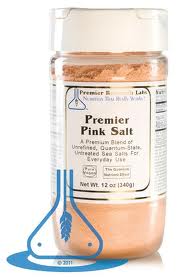 · Raw, unprocessed sea salt from unpolluted sea beds. Unlike white salts, never heated or bleached.

· Mineral salt to maintain electrolyte balance in your body.

· Rich trace mineral content gives to color. Unlike refined salts and white sea salts missing trace minerals.

· No "flow" or "anti-clump" additives or other toxic additives.

· Premier Pink Salt is ground using NICKEL FREE grinders. Ensuring that no toxic tag-alongs will be present in any Premier Research Lab products.

NO Processing NO Excipients!!!

Directions for drinking with water…

Drink ½ your weight in oz of water every day. Add 4oz of water for every 1oz of caffeine you drink. The only safe water is thru a reverse osmosis water filter or spring water. If you use a reverse osmosis water filter you must use a teaspoon of salt.